Orientation is the doorway into your Ambrose experience. Come learn all you need to be a student at Ambrose, meet your professors and classmates, and enter into the community. This will be an informative, engaging, and interactive one day event where you can begin to imagine all that is possible during your time at Ambrose.
Register by August 18th to be entered to win an Ambrose prize pack! Registration closes August 29th (registration form at the bottom of the page).
Fall Orientation 2023
September 4th
Residence Move In - September 4th, 2023
Residence Move In (please check your email in August to receive your move in time slot)
5-6pm Residence Welcome Dinner
6-7pm Residence Launch
Parent Orientation - September 4th, 2023: 3:00 - 4:00 pm
At this time all parents are welcome to come and hear from the president of the university, meet key staff members, learn important information, and have any lingering questions answered.
September 5th
Undergraduate Orientation - September 5, 2023
9:00 - 9:30 am Registration
9:30 - 10:45 am Session One: Academic Resources

Hear from current student, learn how to get Wi-Fi, use the library, and about the mandatory UNI 101 course

10:45 - 11:15 am Coffee Break
11:15 - 12:00 pm Session Two: Student and Community Resources

Tutoring services, counselling, security on campus, and how to get connected into the community

12:00 - 1:00 pm Lunch with your Program Faculty
1:00 - 2:00 pm Campus Tour
2:30 - 4:00 pm Community Games and Activities
Seminary Orientation - September 5, 2023
4:45 - 5:00 pm Registration
5:00 - 6:00 pm Supper with Faculty

Spouses are welcome to come (please specify on registration form if you are bringing someone)

6:00 - 7:00 pm Information Session

Learn about the library, technology services, course requirements, student services and more

7:00 - 7:45 pm Campus Tour
International Student Orientation: September 5, 2023
Orientation is mandatory for all international students. We recognize that the transition to Canada can be challenging, so orientation is here to help you start your Ambrose journey well. See the schedule below for the topics covered during the international session.
You must ALSO attend your degree orientation (either seminary or undergrad- their schedules are also on this page).
We require that when you book your flights, you plan to arrive by the date above. Please do not book your flight before you pay your deposit. Once your flight is booked, please confirm the dates and times with your enrolment advisor. Please note that we do not do airport pickups. 
Schedule
2:30 - 2:55 pm - Welcome and get to know students
2:55 - 3:25 pm - Learning the Canadian Culture, Transition Issues, and a Student Panel
3:25 - 3:40 pm - Coffee Break
3:40 - 4:20 pm - Key Information for being an international student

Study permit requirements, work, healthcare, banking, resources within Calgary, etc.

4:20 - 4:30 pm - Student Health and Dental Plan
4:30 - 5:00 pm - Undergraduate and Seminary Breakouts
Frequently Asked Questions
Is orientation mandatory?
If you are an international or education student, yes it is mandatory. For all other departments or for domestic students, orientation is not mandatory but strongly encouraged.
Why should I attend orientation?
You should attend orientation for three reasons:
It gives you all the information you need to have the best start possible. Coming to university can often feel overwhelming. We are here to help you feel as prepared as possible so that you can thrive here at Ambrose.
It allows you to meet so many important people on campus, including your professors, Student Life staff, Academic Success staff, key student leaders, and so many more
It allows you to meet your classmates and enter into the Ambrose community. Feeling connected is critical in the thriving of students, and so orientation is a great way to begin your time in the Ambrose community.
Where do I park when I come for Orientation?
During orientation there is free parking in our main parking lot. This is located behind our main campus building. It is accessible from the Ambrose Circle, as well as from Springborough Boulevard. See map below.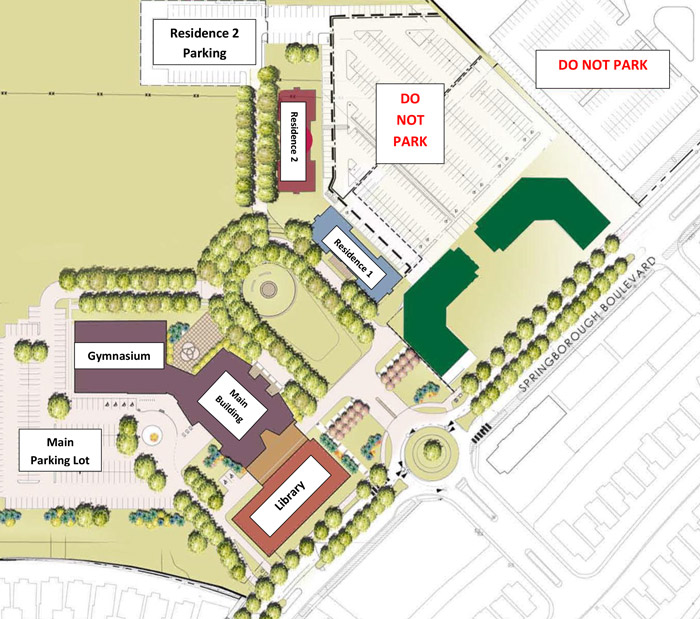 Is there any cost to Orientation?
Orientation is FREE! All events and meals as indicated on the schedules will be provided without cost.
Can parents come to Orientation?
We do not allow parents to come to the new student orientation on September 5th. However, there is a specific parent orientation for those interested on September 4th from 3-4pm. At this time all parents are welcome to come and hear from the president of the university, meet key staff members, learn important information, and have any lingering questions answered. Please tell your parents about this event!
What if I have more questions?