Memories are Made at Ambrose Residence
There's so much to gain from living on campus. The residence program is a big part of what makes the Ambrose community so close, energetic, and supportive. In this active living-learning environment, you'll have the chance to grow holistically as you share life with your fellow students.
Apply by June 15th to guarantee your spot in residence.
Please note: All first-year, full-time, non-transfer students under 21 who are not married and do not live with their parents must live in residence and purchase a meal plan.
For more information, please contact:
E-mail: residence@ambrose.edu
Tel: 403-410-2000 ext. 2957
Comfort
Your room is furnished with everything you need to study and live. Every room opens onto a shared living area with soft seating and a kitchenette. Take advantage of common areas like a media room or racquetball courts.
SEE RESIDENCE FACILITIES IN 360° CLICK HERE FOR FLOOR PLAN MAP
Security to help you feel at home
Because your safety and peace of mind are important to us, the residence has numerous security features including secure building access, 24-hour on-site staff, security cameras and after-hours security personnel.
Community
Build life-long friendships as you live, study and hang out with students from different places and programs. From study groups to residence-wide social events to late-night conversations with floor-mates, residence is a bonding experience that's not to be missed.
92.5% of our residence students say that living on campus has helped them connect with other students and make friends.
Convenience
Your home in residence will be minutes away from your classes and all the other services on campus, like the library, the fitness centre and the squash courts. No rush-hour commute means more time to do the things you want to do!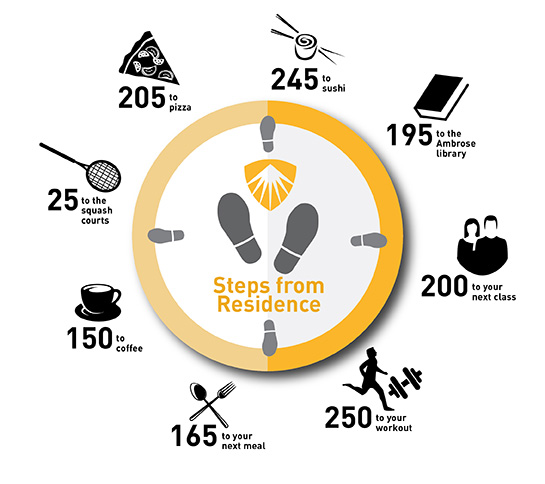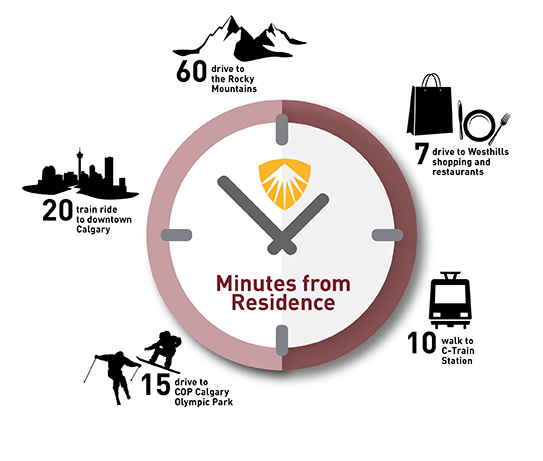 Residence Fees
Ambrose University has decided to provide an all-inclusive room and board fee for the upcoming school year. This fee covers your room costs, meal plan, flex dollars, laundry and Wi-Fi. The residence fee is $3,950 per semester. For a breakdown of this fee, please see the Residence section on the Tuition & Fees page.
*Rates and policy subject to change.
Single Room
In consideration of suggested COVID-19 physical distancing practices, we will be providing single rooms for the 2021-2022 academic year. Therefore, students will not have the option of double or triple rooms with roommates. This, in effect, provides students with their personal space and a shared bathroom with one other student.
Dining Services
The meal plan will provide each resident student with breakfast, lunch and supper options. Please see the following document for more information regarding the Meal Plan and Cafeteria hours.
Meal Plan and Cafeteria Hours
Cafeteria Hours
7:30 am to 7:00 pm Monday to Friday and 10 am to 6:30 pm Saturday and Sunday
Origin Coffee Co & Eatery hours are: 8 am to 3 pm Monday to Friday and open for varsity games.
Specific Meal Times (Breakfast, Lunch, Supper)
Monday to Friday
Breakfast: 7:30am to 10:30am
Lunch: 11:00am to 3:00pm
Supper: 3:30pm to 7:00pm
We will be offering brunch from 10:00 to 3:30 and supper from 3:30 to 6:30; Saturday and Sunday.
Meal Features
All meals will work with the basic assumption that each student can choose (has the option) for a main item and two side items and a drink. Breakfast will have a choice of a couple of mains, there will be several choices for 2 sides and drinks. Lunch will have at least 6 options for main, several choices for 2 sides and drinks. Supper will have at least 6 options for main, several choices for 2 sides, dessert choice and a drink. Lunch and supper will have a pizza/calzone main, a grill main, a home cooked main, a prepared salad main or a prepared sandwich main each weekday. We will also be providing vegetarian options at each meal along with fruit. This will be explained to the students by various ways (at the till, on the screens, with a brochure and by food services staff). A student does not need to choose the full option at every meal but has choices to eat as much or as little as needed. At this time we will not be offering 2 mains as an option at any meal.
We are no longer a cafeteria that provides made to order options. Options for the day are limited but a variety of options are provided daily. We are attempting to provide a 4 week rotation.
Students can no longer come into the cafeteria looking for a drink or a chocolate bar or candy. Items of this sort will need to be purchased at Origins with flex dollars.
Residence and Commuter Meal Plans
Swipes will have a limit of 3 per day, one for the breakfast hours, up to a max of two for the lunch period and up to a max of two for the supper period – weekdays. Swipes will have a limit of 3 per day, up to a max of two for the brunch period and up to a max of two for the supper period – weekends. Residence swipes are non-transferable as in they are not to buy meals for their commuter friends Flex dollars are a declining balance the same as previous years. Residence students will have $150 loaded onto their account to use at Origins, Waves, Dominos and at vending machines. Cafeteria is open from September 6th to December 22st and from January 9th to April 28th.
Commuter students will be offered a flex swipe plan for the cafeteria, they can purchase 30, 60 or 100 swipes (details will be advertised)
Walk up purchasing will still be offered: $7.50 for breakfast, $9.50 for lunch and $11.50 for supper.