Body
AMBROSIA INQUIRIES
Any questions or concerns should be emailed to
SUBMISSIONS
GUIDELINES
This is a literary magazine published by English Literature majors. The editors are interested in seeing finely crafted, artful submissions rather than didactic ones.
VISIT THE ARCHIVE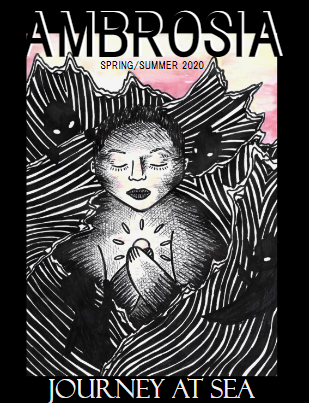 View and download previous issues of Ambrosia.
Welcome to Ambrosia, the Ambrose University Literary Review!
A bit about us…
So what exactly is a Literary Review? It is a periodical or magazine that collects and publishes a series of short literary pieces (poetry, essays, short stories, etc.). Ambrosia is run out of Ambrose University, and provides an opportunity for the students and greater community to share and showcase their writing. The Review will be published twice a year, or once for each semester. We look forward to publishing some amazing writing while building up a literary fellowship in and around Ambrose.
What does "Ambrosia" mean?
In the ancient world, ambrosia, the mythical food of the Greek gods, was understood to confer immortality upon whoever consumed it. In later times, ambrosia came to be associated more generally with an exquisite sweetness or delight, such that any speech of great eloquence and wisdom could rightly be called ambrosial, divinely-inspired. It is thus particularly fitting that Ambrose, the fourth-century Bishop of Milan, came to be called 'honey-tongued'—not only for his speech but for his hymns, in which he brought together the sweetness of music with the delight of poetry.
For all inquiries, please email to literaryreview@ambrose.edu.