Ambrose Mental Health Strategy
Ambrose University is focused on the wellbeing of its students and is dedicated to integrating our values, including our desire for mentally healthy students, into all levels of the university. Drawing on the literature about mental health and the findings of the above studies conducted at Ambrose and considering our diverse population and the underlying values of the institution, the mental health committee has developed a comprehensive mental health strategy covering six strategic areas. The framework in Figure 3, built upon the CAUSS framework, depicts the relationship between the six strategic areas that contribute to a healthy and supported student population. In the following pages, we will discuss each area in turn.
Figure 3. The Six Strategic Areas Covered by Ambrose's Mental Health Strategy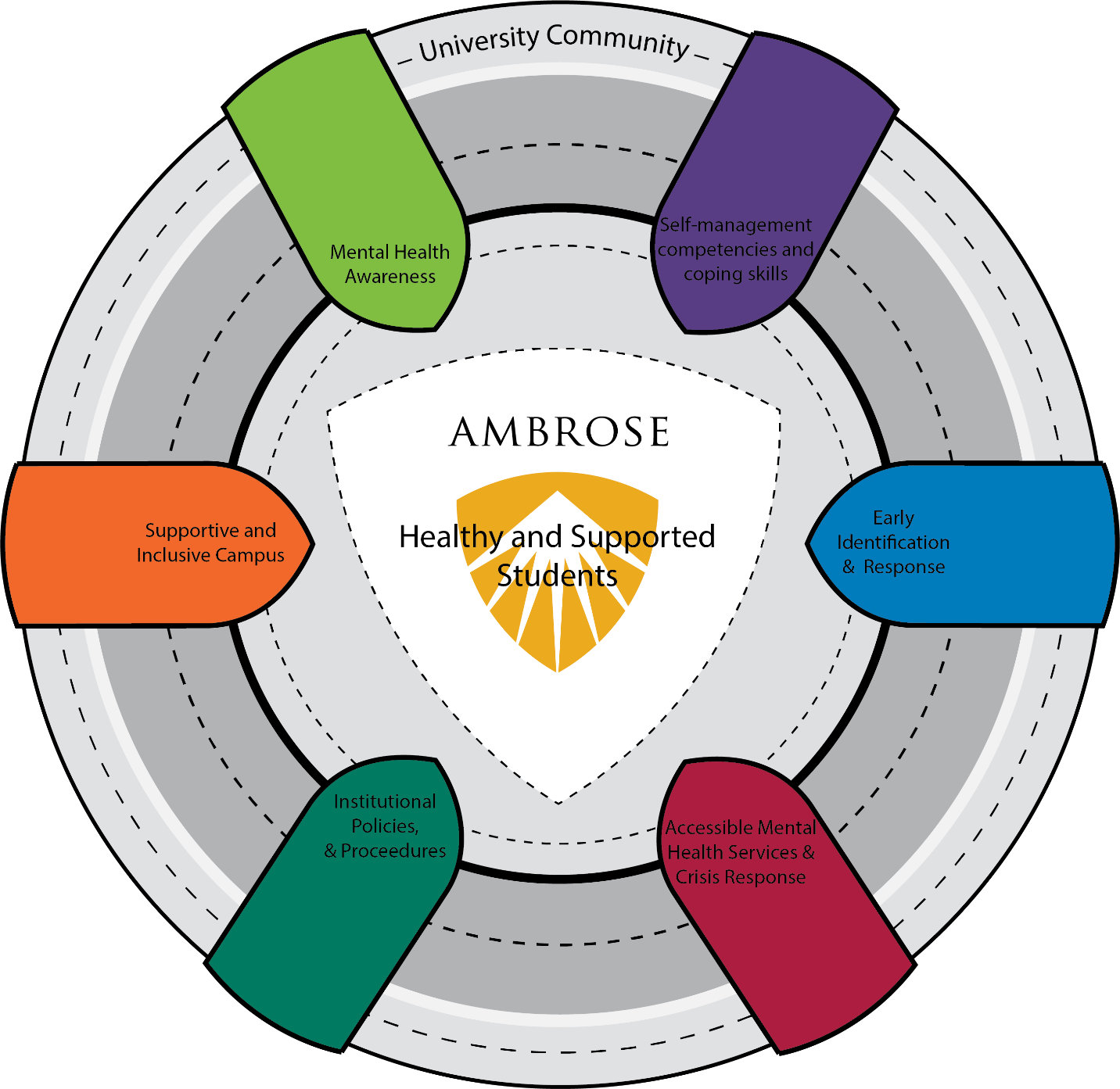 1. Mental Health Awareness
Mental health awareness initiatives strive to improve student mental wellbeing by increasing knowledge and understanding of the determinants, nature, impact, prevention and management of mental health issues. Increased knowledge and understanding builds resilience and capacity to maintain wellbeing and promotes early help-seeking behavior. Stigma, prejudice and discrimination have a significant impact on mental health by impacting one's sense of self-worth and commitment to self-care, as well as making it more difficult to reach out for help. A supportive campus environment requires that all community members recognize their responsibility to others as well as themselves. By raising mental health awareness, we can encourage community members to take action not only to care for themselves and their immediate connections but also to promote mental health at the campus level, especially among students.
2. Self-Management Competencies and Coping Skills
Self-management competences and coping skills strengthen students' resilience and ability to manage the multiple demands of student life. They also decrease vulnerability to mental health issues such as depression and anxiety.

3. Early Identification and Response
Those who interact with students in the course of their day on campus are in the best position to notice early indicators of poor mental health. Therefore, early recognition requires everyone's participation. To build this capacity, we need to increase student, staff and faculty ability to recognize early indicators that a student may be experiencing difficulty and indicators of more serious student distress. We must also build the capacity of each community member to reach out to a student and help connect the student to appropriate resources and supports.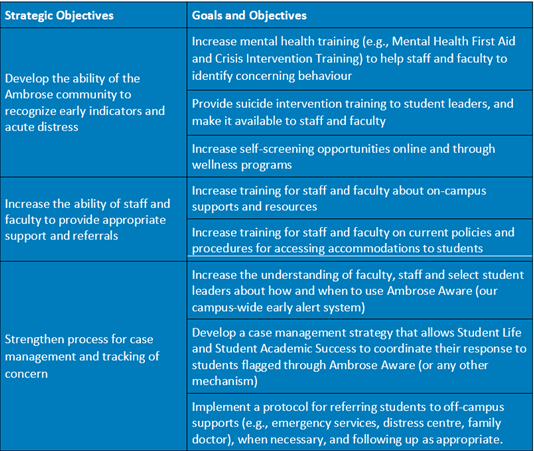 4. Accessible Mental Health Services and Crisis Response
Accessible mental health services are a critical part of a systemic approach to student mental health. Numerous studies have found that these services also have a positive impact on student retention (Frank & Kirk, 1975; Illovsky, 1997; Porter, 2011; Turner & Berry, 2000; Wilson et al., 1997). They are uniquely placed to contribute to a systemic approach on multiple levels. They provide a range of services to support students through mental health difficulties and the recovery process, as well as specialized programs to meet the need of specific student populations.
Post-secondary institutions also need plans to respond to mental health crises, such as acute distress and imminent risk of self-harm. These crises have a significant impact on students' mental health and academic success; they also have an impact on others and can affect the entire campus community. Crises are also often complicated situations that require collaboration between various individuals and departments. They also require an elevated level of response in order to ensure the safety of all involved. Crisis management protocols are critical, therefore, to enable the campus community to respond effectively, and all staff and faculty must understand their roles within the institution's crisis management plan.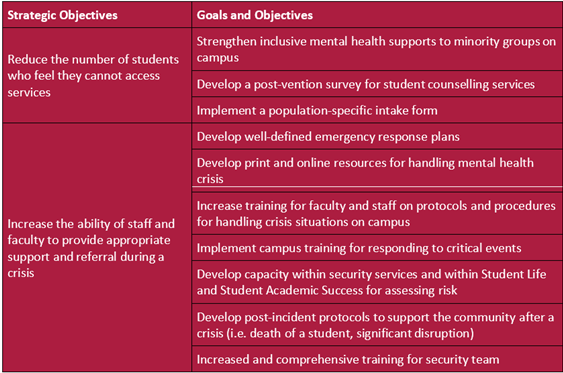 5. Institutional Policies and Procedures
While we can improve wellness by designing strategies for specific groups of people or specific moments in their lives, we must also consider the broader organizational context. An institution's structure and policies contribute to its culture by reinforcing certain values, beliefs and behaviours and discouraging others. A post-secondary institution's structure, goals, policies and practices therefore impact student mental health, which, in turn, impacts student learning. To address this area, we must assess the degree to which these organizational elements support student mental health and engage the whole student in the learning process.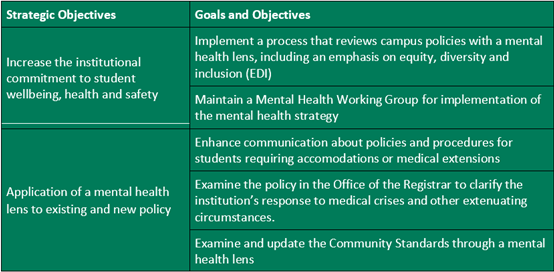 6. Supportive and Inclusive Campus
A supportive campus climate promotes students' mental wellbeing and holistic development. In this environment, students can meaningfully participate in the community and experience a sense of inclusion and belonging. This kind of campus is fundamentally committed to social justice and sustainability and identifies, addresses and remedies barriers to the full participation of all students. This dimension of our strategy also considers the physical environment and how the spaces of campus can best support and promote mental health and wellbeing.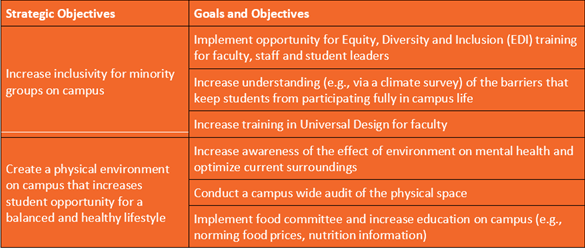 Task Force Members: Wally Rude (VP Student Development), Carissa Muth (2017-2018 Wellness Coordinator), Monique Verhoef (Director of Community Life), Maureen Hickman (2017-2018 Student Council Representative), Bill McAlpine (Professor of Practical Theology), and James Cresswell (Associate Professor and Program Head of Psychology). Added members: Christina Conroy (Faculty of Theology), Melissa Kroker (2018-2020 Wellness Coordinator) and Rebecca Tunke (2018-2020 Student Council Representative).