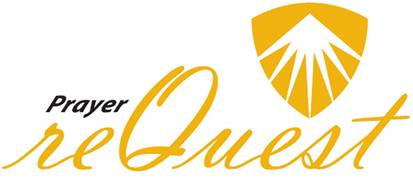 A place for Ambrose students, staff, and friends to pray and be encouraged in these unsettled times.
Pray for Ambrose 
A place for Ambrose students, staff, and friends to pray and be encouraged in these unsettled times.
Faculty of Theology
From Jo-Ann Badley, Dean
I value the prayers of our constituency for:
our new students. Seminary education is an unusual kind of education. On the one hand, students come because they have a call from God to become leaders in the church; on the other, becoming a leader requires a set of skills that includes distancing yourself from what you have always thought and believed, and rethinking things you have always assumed. Our hope is always that this change of perspective will produce depth of faith and not loss of intimacy with God. Pray for us that we will be effective educators, that our love for God will always be transparent to students, that they will be able to make the transition from pew to pulpit.
our international students. We give thanks for the increased number of international students this year. We have 13 students from outside Canada enrolled in seminary programs, many—but not all—from Hong Kong in the Theological Studies in Chinese programs. Seminary education is an adjustment and coming to a new country is an adjustment. Some come without their families. Pray for people around them to help them settle well and for the loved ones they have left behind to come to seminary.
our graduating students. As students finish their programs, there are a lot of adjustments: looking for work, often changing locations. Pray that they will have a clear sense of God's call on their lives.
young men and women who are thinking about pastoral ministry, that they would have the courage to take up this work.
the physical and mental health of students, faculty, and staff in this continuing COVID season. May we not grow tired as we carry the usual stresses of a semester as well as the new ones that come from living with this virus.
Faculty of Arts & Science
From Kyle Jantzen, Dean
Please pray for:
the spiritual and intellectual flourishing of students
the spiritual and intellectual flourishing of faculty members and their families
unity among both faculty and students, as we seek to model healthy debate and mutual respect in a time of polarization
comfort, strength, and relief for students who are experiencing anxiety about coursework, finances, or other life pressures
wisdom, strength, and grace for faculty in the midst of the many demands of the semester—teaching, marking, committee work, research, and other service
wisdom, strength, and grace for staff members who support the academic work at Ambrose
wisdom in the revision of curriculum in various Arts & Science programs
new faculty searches, that God would lead us to the right people to join the Ambrose faculty—dedicated academics who are able to bring their Christian faith into conversation with their academic disciplines
creativity, wisdom, and open doors to members of our constituencies as we develop new work-integrated learning opportunities (e.g. field experience, service learning, practicums) for Arts & Science students
the financial resources we need to maintain and expand our educational mission
more new students to choose Ambrose as a place for education and growth
School of Education
From Sherry Martens, Associate Dean
Please pray for:
students, as they complete this semester for calm and assurance in their course work
the continued ability to have great placements for our students in the upcoming semester
the receiving partner teachers and schools, as they continue to navigate challenges in the pandemic
faculty in the planning of courses for the Winter semester, their research and continued health and well-being
the search committee, as we hold interviews for the right person to join us in Fall, 2022
Student Academic Success
From Robyn t Hart, Student Academic Success Assistant
Please join us in prayer:
that we would continue to serve and support our students, excelling in student care by helping them with instruction and information.   
that faculty and staff would have divine grace and patience to support all students in their journeys, especially during this continued difficult time. 
that students will have the courage and perseverance to pursue excellence, learn the art of adaptability and be resilient throughout this semester. 
for our students' mental health and overall well-being especially during this time of COVID restrictions and entering into winter weather: 
for students on Academic Intervention and Academic Probation.  

Low grades can affect a student's eligibility to hold student leadership and athletic positions and create potential delays in gaining entrance into their preferred program of study.  
Students on AI and AP are often disappointed regarding their previous semester grades. Pray that they will be able to see the upcoming winter semester as a time to make a fresh start, but finish this fall semester strong. 
Tutoring & Writing 
that students would seek out academic support from our team by attending workshops, drop-in sessions, and scheduled consultations in the various service areas.    
that we would help students to avoid overload by helping them create better academic practices across the disciplines. 
for workshops: 

that Colin will have wisdom and understanding when setting up and presenting sessions. 
that the material will be relevant and engaging, meeting the needs of the students and instructors/professors at Ambrose, in both the present and the future. 
that our writing and subject-specific peer tutors would stay healthy (mentally and physically) and serve with joy, even as they juggle their own schoolwork, other jobs, families, and church, and community commitments. 
Accessibility 
We are seeing a lot of mental health struggles and issues with exhaustion and low motivation – much of it due to pandemic fatigue. It has been a heavy load to carry for all of us; many people are feeling the effects of this extra weight. Please pray for students and staff to find support, to be gentle with themselves and others and to extend compassion all around. In addition, that these COVID times would end soon!