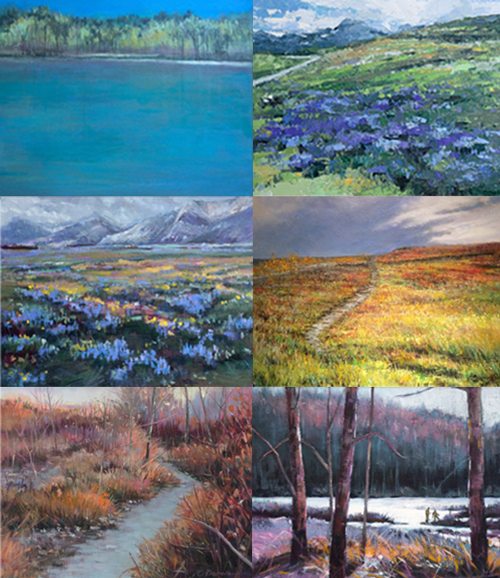 Landscapes: Beyond Sight
I began pursuing painting as a leap of faith, answering a call that I was feeling to follow a new path.   
The future was unclear.
My hope is that the paintings in this exhibit can serve as a visual metaphor for life's journey and the many experiences we share as we walk through it.
The paintings ask the viewer to look beyond dull overcast skies and seasons in transition, and discover a subtle, quiet and sustaining beauty, even when conditions seem less than compelling.
Ordinary days may pass slowly; there is a sense of waiting or anticipation, or perhaps we are simply enduring through difficulty. By spending time in nature, we are renewed by glimpses of beauty encountered in the midst of even familiar landscape. A splash of intense colour, subtle tones of snowy whites, the depths of hues seen in fall grasses, the intricate patterns in shadow - there are always gifts of grace to be experienced if we pay attention.
As the land is able to regenerate, to weather storms, to suffer times of dormancy, to blossom with new life or to endure loss, so too we experience and transition through life's challenges and joys. Seasons shift, diminishing daylight calls us to rest, longer days provide energy and rejuvenation. Seen through a lens of faith in a good and loving God, who created so much for us to enjoy, my hope is that these paintings provide a visual and curative rest, a quiet solace, an assurance and reminder of our ever-present source of strength, growth and replenishment.
These impressionistic paintings convey my experience of walking in nature and the intimate sense of God's presence felt there. Serenity comes when we intentionally look around us with an attitude of thankfulness. Renewal happens when we allow ourselves time to enjoy creation, and strive to be conscious of the hidden beauty in our surroundings, in our lives, in ourselves and in others.
The Artist
Alberta born, Cindy Bouwers is an artist and designer. After obtaining her BFA in Visual Communication Design and building a career as an accomplished graphic designer, as well as teaching several design courses at ACAD, she decided to explore a long buried desire to paint and pursue her own artwork. Cindy has been juried into a number of  group shows in galleries in Calgary, Edmonton and Toronto and recently won the Duggan Landscape award  for her piece titled "Gust and Flurry" which is part of this exhibition. Cindy currently works out of her downtown Calgary studio and is an active member of the Calgary Artist's Society and the Riverview Artists Group.