Surround
This series is a reflection of my faith journey. I hope it will encourage you as you reflect on your own journey.
It began with a lot of uncertainty about life, art and God. I came home one day, completely overwhelmed with anger and confusion. That was when I started to paint as a response to my thoughts and feelings. Tangled string became an representation of confusion. Blue became frustration. But I knew there was something more. It wasn't just about dwelling in uncertainty.
I began finding answers through scripture and church, which sparked me to paint even more. Each brush stroke and each layer of paint has strengthened my faith in Christ. It has been a process of letting go of control. Not worrying about the finished outcome, but rather, enjoying the process.
Image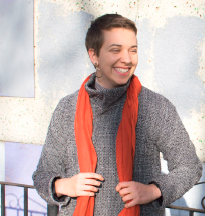 About the artist: Kate Lemke
Kate is mixed media artist from Edmonton, Alberta. She grew up with a keen interest in "making", and since, cannot stop.
Currently, she works with re-purposed materials such as fabric scraps, which are then layered with acrylics, string and plastic.